Editor's note: KSL.com does a weekly feature on artists in the community. If you have a painter, sculptor, musician or creative genius in mind, feel free to email your submission to atreasure@ksl.com. Please include a contact email for the artist, if available.
MURRAY — Stephanie Hock's story with art is a series of ups and downs, putting her paint away and finding her form again. But it's not done yet; that part she's sure about. And with the joy and color you see when looking at her work, you can't help but be glad she did all that to bring your eyes a colorful treat.
Hock, an impressionist painter from Murray, Utah, was raised along with her six siblings to be imaginative by her creative parents — her mother is a sculptor and her father is president of advertising firm Richter7 — and a high school aptitude test pointed her in the direction of making art a career. She headed to college with her mind set on art, diverging to graphic design out of a sense of practicality before returning to working with her hands in 3-D design, ceramics, drawing and photography. By her senior year, she gave into her desire to paint.
But it wasn't quite the straight shot to the goal the aptitude test gave her. When Hock transferred to another university midway through her studies, she wasn't accepted to its art program.
"I had a crisis. Should I stay here and choose a different major, or go to another university and continue to pursue art," Hock said. "There was definitely a part of me that felt like, 'What was I thinking being an artist? I will never make a living. I should probably go into something more sensible.' But then the thought of not being able to tell people that I was an art major really made me sad. I realized it was a deep part of my identity to be an artist — I loved to create so much. I decided to find another art program that I could get into and I would worry about making a living later. It brought me peace and felt like the right decision, so that's what I did."
Throughout school, she said she never really stood out. She took it as a sign that she wasn't meant to make it as an artist. Hock graduated from Utah State University with her Bachelor's Degree in Fine Arts before getting an office job and putting the paints away.
"I was burned out. I didn't feel like anything I made was good enough, so I stopped making," Hock said.
When she met her husband two years later, he was enamored by the fact that she was an artist.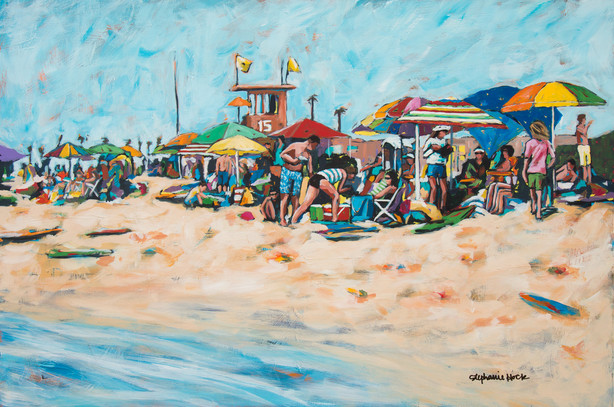 "Holiday Weekend" (Photo: Stephanie Hock)
"I was surprised on our wedding day, when I opened my present from him and found three tubes of paint," Hock said. "He told me he believed in me and wanted me to try again. A few months later, for our first Christmas, he bought me a huge canvas because he wanted me to paint something for us to have on our wall and felt sure it would be amazing. We lived in a tiny apartment and had no place to put that canvas but up on the wall, so I stared at that giant white rectangle day after day and started dreaming about what I could fill it with."
Babies came before inspiration. But as she got in the swing of motherhood, Hock began pulling out the paints little by little. A friend eventually asked her to participate in an art show, and Hock agreed to support her.
"I worked and worked on a painting and it turned out awful. I couldn't get what was in my head to come out the way I wanted it to on a canvas," she said. "I took it to the show, because I believe in keeping my word, but I felt embarrassed to exhibit it. But, even failure can bring about good things. That event brought me to a very humble place and I wanted to get better. I talked to other artists and their advice was to take workshops from artists you love and want to emulate. They also recommended books, like 'The Artist's Way' by Julia Cameron, to help blocked artists work through their issues and create again."
Suggest an artist
If you know an artist, musician or other Utah talent worth featuring, please email their background and some contact information to atreasure@ksl.com.
She kept working through her block, stopped creating for the grades or the validation from others, and started finding joy in her painting again.
"I was amazed to watch my work get better. It was so fulfilling to actually see what I saw in my head come out on the canvas," Hock said. "It felt so liberating to forget the grades and comparison and worrying about trying to be 'enough' for anyone else and instead just paint what I loved because I loved it. Art became so fun again. And that's when things started to take off for me."
See Stephanie Hock's work --->
Hock has kept improving her technique, finding her style, and working the canvas to be something that makes her happy and uplifts others. Turns out, the aptitude test was right, but it didn't prepare her for what she's experienced.
"The thing about pursuing your dream is that there are days it doesn't feel like a dream, it feels like a lot of work. And it has been a lot of work (like two kids sitting on my lap as I try to type this), and some sacrifices," she said. "But I've been so amazed at the doors that have opened to me and the wonderful opportunities that have come my way because I've kept at it and shared my work. I put my faith out there in the universe, and I have felt a divine hand guiding me and making more out of my hands than anything I was doing on my own. It's been an honor to sell my work and discover that my college self was wrong — there is a large and wonderful world for professional fine art painters and I'm so thrilled to be part of it."
---
Photos
Related Links
You must be logged in to post a comment.
login here
Showing of 7 comments
You must be logged in to post a comment.
login here
Download Now
---
Lihat Sumbernya →
How art became 'fun' again for Murray painter
Download MP3 Terbaru →
Denny Malik Mp3 Download
---
Related Posts To How art became 'fun' again for Murray painter